About John and Beth Ann Amico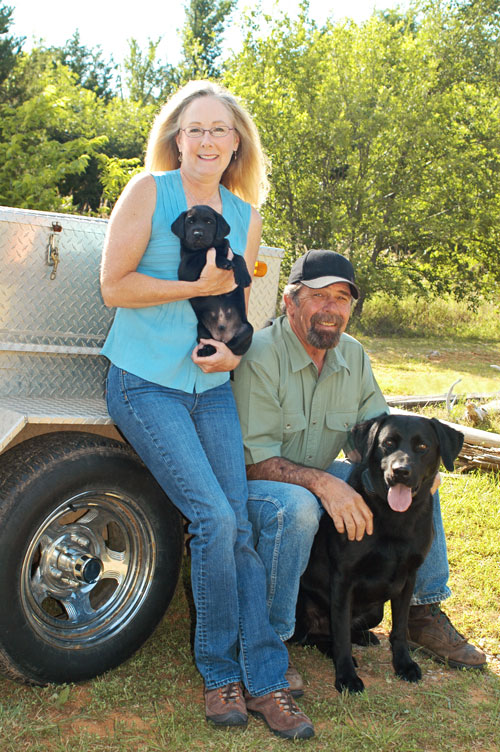 John and Beth Ann Amico own Deep Fork Retrievers, Oklahoma's oldest and largest hunting retriever kennel, serving Oklahoma, Texas, Arkansas and Kansas. Their reputation for producing quality hunting retrievers has led avid hunters like 2008 Presidential candidate Governor Mike Huckabee and former Oklahoma Governor Frank Keating to their kennel, along with sportsmen and professional hunting guides across the U.S., Canada and Mexico. Recognized for their ability to help people understand how to train their dogs, the Amico's serve as pro staff for industry-leaders including Cabela's, Prois, Dokken, and Limbsaver.
Both members of the Professional Retriever Trainers Association, the Amico's are known for bringing out the best in the dogs that spend time with them at their training facilities. Serious hunters, John and Beth Ann are specialists in developing hunting retrievers and their owners into hunting teams.
John Amico
As a teen, John's natural skill with dogs landed him a job as a kennel boy for Field Trial Hall of Famer Delmar Smith. Under Delmar's tutelage, John learned that even seemingly menial tasks as kennel cleaning provided fundamental insight into his canine charges. But the Viet Nam draft interrupted John's goal of becoming a gun dog trainer and a world away from Oklahoma, he could only dream about his passion. John returned home from the Army with an ever-increasing desire to learn the art and craft of retriever training. Devouring every written word on the subject and scrutinizing the field work of top trialers, John set his mind on learning how to train blood-in-its-eye hunting retrievers for duck hunters like himself.
In 1980, John began training professionally. He named his business Deep Fork Retrievers after his favorite hunting spot in southeastern Oklahoma, one of the nation's last remaining natural hardwood bottoms. Within a few years, he attended the second-ever hunt test at the Jay Hawk Retriever Club in St. Joseph, Kansas. There he was inspired by the new concept of standardized testing for hunting retrievers and further, how recognizing excellent hunting dogs with titles could lead to developing sound breeding programs.
Beth Ann Amico
Like her husband, Beth Ann grew up around dogs and believing they were as essential to life as air and water. She also agrees with Annie Oakley, who once said, "Any woman who does not thoroughly enjoy tramping across the country on a clear frosty morning with a good gun and a pair of dogs does not know how to enjoy life." Beth Ann adds, "Just make mine Labradors!"
Beth Ann's love of animal training began as a teenager when her grandfather (who trained horses for the cavalry in World War I) encouraged her to learn to ride. Her competitive nature kicked into high gear and soon multi-colored ribbons from hunter-jumper show rings decorated her walls. After graduating from the University of Oklahoma with a degree in Finance, Beth Ann began a career in commercial lending. She juggled managing multi-million dollar loan portfolios with hours in the saddle until the day she saw a group of field Labradors being worked. Her appreciation for the similarities in training concepts between dogs and horses peaked her interest in retriever sports and before long, she traded her high heels and briefcase for kennel boots and waders to make a life-time commitment to John and his hunting retriever business. Beth Ann is an award-winning gun dog writer.