Testimonials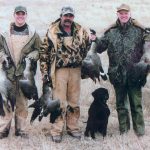 I have known and worked with John Amico and Deep Fork Retrievers for many years. We have purchased puppies and had dogs trained there. They are the best of the best – conscientious, professional, good at what they do and integrity filled. They are also nice people and I recommend them without hesitation.
– Former Oklahoma Governor Frank Keating
Throughout the past 20 years, the Flying W Pheasant Ranch in Plains Kansas has owned many Deep Fork dogs. It was 1989 when we purchased our first Deep Fork retriever, a black lab named Mattie. In 2009, we bought yet another black lab named Carter. John's bloodlines and his ability to train these excellent hunting retrievers are like no other. The versatility of these labs are amazing – from the passion to hunt and retrieve pheasants all day, to setting in a waterfowl blind watching the sky waiting for birds to fall, and of course to still be your best friend.
Part of our 20 years of success at the Flying W, and one of the highlights of our hunts, is the excellent dog work – not only the great bloodlines John has kept, but the obedience the dogs carry. The one quote we've had from our hunters over & over is "Wow, what great dogs!"
John and Beth Ann have been an inspiration to our guiding service, not only with great dogs and their trainability, but they are great people and are very knowledgeable.
Here at the Flying W, we strive to have a first class operation and first class dogs are a must. This has been a great partnership and friendship to our service. As long as Deep Fork Retrievers are selling and training dogs, the Flying W Pheasant Ranch will be using these wonderful dogs!
– Leon and Nancy Winfrey, Flying W Pheasant Ranch, Plains Kansas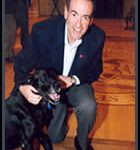 Jet was an anniversary gift to me from my wife in May of 1998. He has been my constant companion, hunting buddy, and source of unconditional love and affirmation. It has been obvious to all who have known him whether as a well behaved house dog or a tenacious and amazing retriever in the duck woods of Arkansas, that Jet was well-bred, well trained, and well cared for. People are especially impressed with his gentle demeanor, calm spirit and good manners, but think they are seeing a different dog when he is hunting because he's all business, totally focused, and relentless to please.
He has been bred several times and the pups he fathers tend to take on his good looks, good behavior, and intelligence. He's simply about the best dog ever – what else is there to say?"
– Former Arkansas Governor and '08 Presidential Candidate, Mike Huckabee
Jet has been such a stable part of our life. When we are going all over the place traveling we know that jet will be the same as we return home, loving us without fail.
The last decade of our life with all of its ups and downs seems too much to imagine but our faithful dog Jet completely reminds us of how simple life can be. He is the best and I thank God that he was brought into our lives.
– Former Arkansas First Lady, Janet Huckabee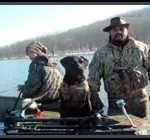 I would like to take this opportunity to thank you for the outstanding dog (Deep Fork's Ebonstar Cain) I purchased from your kennel. I now have a better understanding and greater respect for proper breeding and puppy selection process than ever before. Cain has an intense desire to retrieve but he is very trainable and this makes my job so much easier. Hunters like me hear about proper breeding, but sometimes lack the resources and resort to purchasing 'backyard bred' dogs, only to be disappointed with the results. It is my honest opinion that Deep Fork Retrievers is doing an exceptional job of breeding the traits hunters dream for in a dog.
I am always amazed of how much GO power this dog possesses to the point I thought this is my 'once in a lifetime' dog, but I was fortunate to see one of your other clients running a Deep Fork dog at a local hunt test and noticed the exact same traits. One cannot even imagine how happy I was anticipating that my next Deep Fork dog would be as good or even better.
– Marc Williams, Broken Arrow, Oklahoma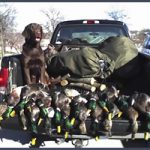 Thanks so much for the "turn-around" you guys did on my boy Crash! I came to you because I was having problems getting him to retrieve on command. I sought your help, because I had heard about Deep Fork Retrievers from a friend. I was not disappointed with Crash's training. Also, thanks for the training you gave me – Crash was really being misled with some of my bad techniques. I couldn't be happier with my exceptional hunting partner that you gave me! He is very consistent with all of his retrieves, even blind retrieves. I took him hunting about a week after he finished at Deep Fork and he had an excellent day. He retrieved a 4 man limit of mallards and he never missed a beat! Since then, he's retrieved over 200 birds, including several blind retrieves. Thanks again for all that you did!
– Justin Tate, S SSgt USAF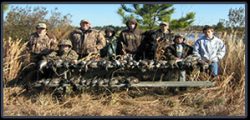 About six years ago my husband and I decided that we would like to get a Lab puppy to train and have as a hunting dog.  Living on the Outer Banks of North Carolina there are all sorts of Labs but not what we were looking for, so we went to the Internet where we found Deep Fork Retrievers and John and Beth Ann Amico.  My husband Billy, called and got hold of John.  What followed has been two fantastic female black labs and a connection to Oklahoma that continues to this day.  Billy and John hit it off immediately and John has been more then willing to teach and share training information with Billy.  Not only that, but John was crucial in finding a male for us when we talked about getting a second dog for breeding.  Unfortunately we lost our first female, Oakie, at an early age who had become not only a fantastic hunting retriever but a solid companion to Billy.  When Billy was ready he decided to call John and just plant the seed that he would like to get another female with a similar bloodline as Oakie.  John went to work and within a year we had our puppy.  In the meantime our male, Cole, has become an incredible dog in all ways.  Not only is he a Master Hunter who will be going to Master Nationals this fall, he is also a remarkable field dog.  Solid in the blind or boat and not afraid to go under water after a bird, not to mention his impeccable ability to work with a handler on a blind retrieve.  To top it all off, he is a lap dog who just wants to please and be loved by his owner.  He is one of those rare, talented dogs that can go from the hearth to the field with the drive to do well and retrieve that bird.  Our second female, Wigeon, will be 2 this June and is also proving to be an incredible hunter as well and is going for her Senior Hunt title this summer.  She definitely has traits of Oakie in her along with some relatives and is lovingly called "Wild Wigeon" in our house.  We look forward to seeing what she and Cole parent in the near future.
It has been a pleasure and an incredible opportunity to be a part of Deep Forks Retrievers – a relationship that we hope to continue for quite some time.  We can't say enough about the quality of the dogs that Deep Fork Retrievers creates.  John and Beth Ann care about their dogs and their knowledge to breed for a desired effect is impressive.  We truly feel they want there to be a special bond between the owner and their dog.  We thank you both for the dogs you have shared with us.
– Jennifer and Billy Bortnick, Kitty Hawk, North Carolina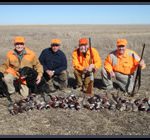 I bought "Hunter" from John Amico 13 years ago. With 2 years training by John, Hunter achieved the UKC Hunting Retriever title. He was also featured on Outdoor Oklahoma and The World of Dogs, and appeared in a national ad campaign for Bismuth shotgun shells.
Three years ago John bred Hunter and selected a puppy, Max, to train for me. Last year, I took both dogs to Kansas for what was to be Max's first and Hunter's last pheasant hunt. Max had never seen a pheasant so he followed Hunter as he moved among the rows of maize and through thick weeds in the bar ditches. As Hunter flushed each bird, one of the four hunters shot and Max was so fast that neither Hunter nor the rancher's dog had a chance.
I put Max in the truck so Hunter to retrieve 8 birds. At the end of the day, 50 birds were killed. Max retrieved 35 birds – that was the Best of Hunts!
The last bird shot finally fell at about 40 yards. Hunter and Max took off – halfway Hunter sat down to watch as Max raced on to retrieve the bird. They returned side-by-side. With tears in my eyes, I witnessed the passing of the torch. At 13 years, Hunter could hardly move for 2 days. That was the Worst of Hunts, yet the best of memories of so many hunts for duck, goose, dove, pheasant and even squirrel.
– Dr. Bill Lockard, Oklahoma City, Oklahoma
Just wanted to compliment you both on your exceptional customer service. It made the purchasing process so much easier and stress free knowing that you are dealing with world class breeders that make a living breeding and training phenomenal gun dogs.
I would highly recommend Deep Fork Retrievers to anyone looking for a superior Labrador retriever from professional, caring and knowledgeable breeders who go above and beyond the standard practice of "just selling a dog".
– Jason Hamlin, LT. U.S. Army, Yukon, Oklahoma
As a newlywed, I wanted to find some areas where I could connect with my husband, the ultimate outdoorsman. I had always enjoyed watching a finely tuned dog working in the field with its master, but never imagined that I could be in that role. That was until I came to Deep Fork Retrievers.
John and Beth Ann are masters of the art of dog training and the information I and my Chocolate Lab "Hershey" learned from them is invaluable, for I needed as much if not more training than my dog. Before my very eyes, Hershey and I became a team with skills that exceeded even my imagination. An added bonus was the pride gleaming in my husband's eyes at our accomplishments.
Not only did I (and Hershey) eagerly look forward to each training session, but this experience also opened up many other social opportunities. While training for an AKC hunt test title, Hershey and I joined a women's training group at Deep Fork. In a mainly male dominated sport, it was wonderful to train alongside other women and their dogs. Each of us was there to cheer on the other, while providing wonderful socialization for our dogs in preparation for hunt tests.
The entire experience has been immensely rewarding. John and Beth Ann Amico are a dedicated team whose years of expertise is reflected in the unparalleled care and attention they give each of their clients. So what are you waiting for? Get involved and I promise that it will be an experience that you will never regret.
– Kanda Keepers, Yukon, Oklahoma